This shop has been compensated by Collective Bias, Inc. and its advertiser. All opinions are mine alone #MyLiteracyStory #DGMyStoryEntry #CollectiveBias
I remember it like it was yesterday. I was 23 years old, sitting in a freshly painted nursery below the beautiful chandelier we had just hung, rocking in an antique white rocker. I picked up a children's book from our collection we received at our baby shower and began to read, feeling sweet little baby kicks to where my hand was placed on my bump. I have always loved to read, and I wasted no time before beginning to read to Ada. I have such fond memories of taking those quiet moments to read to her while I was still pregnant.
Once she was born, I would rock her in that same antique rocker and read her books.
Our collection has grown over the years. From books about shapes, to stories of princesses and knights to different types of vehicles- with every new baby we add something new. As a child, reading brought so much magic into my life, it expanded my imagination. I think it is a huge part of what led me to blogging. The quiet moments I spend with my children are some of my favorite moments with them. Watching their expressions, their excitement so obvious as we turn each page- I can easily see the love of stories that I've always had.
I can't imagine not being given the tools to learn to read and to have that ability turn into the love of reading books I have today.
Kellogg's® is a proud sponsor of the Dollar General Literacy Foundation. Every day, Kellogg employees work together to fulfill our vision of enriching and delighting the world through foods and brands that matter. Kellogg's is committed to providing 3 billion betters days through 2025 through initiatives that feed people and their potential. The dollar General Literacy foundation is celebrating over 20 years of helping individuals learn to read, prepare for their high school equivalency or learn English.
Kellogg's and Dollar General are doing such a great thing by helping people reach their full potential and giving them the tools to develop a love of reading.
Be sure to enter the #DGMyStory Sweepstakes with the hashtag #DGMyStoryEntry and share their own personal literacy story for a chance to win a $50 Dollar General gift card.
To learn more about the literacy initiative, hover over the photo below!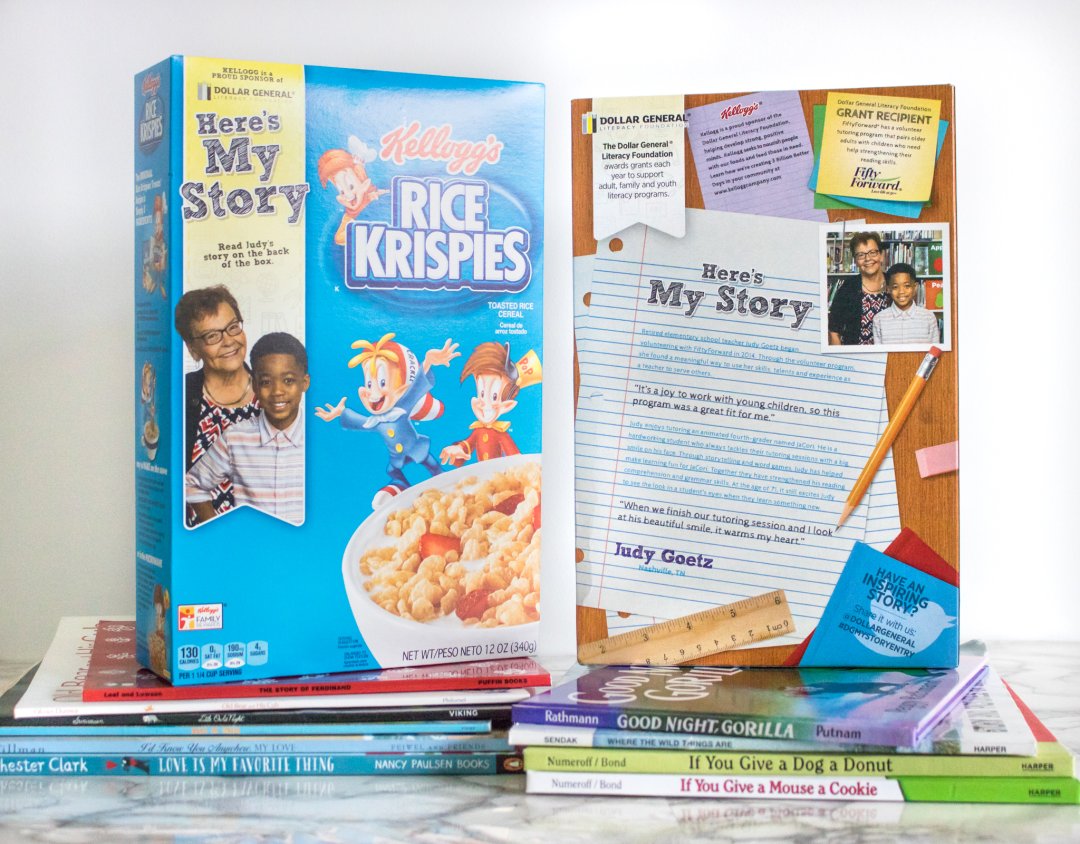 With a growing collection of children's books, our favorite list is ever-changing, but a lot of these stay in our regular routine and I'm so excited to share them with you!
If You Give A Mouse A Cookie
This has been on our list for quite some time! It was also one of MY favorites as a child. What is a better read than a cute little mouse with a wandering imagination? Reading this book as an adult sure makes me think of the similarities between this mouse and my children though!
If You Give A Dog A Donut
Dogs and Donuts, what is NOT to love?! Same author and idea as the original "If You Give A Mouse A Cookie". This book is adorable, the pictures are so cute and the story line is clever and adorable. My son especially loves this one, dogs, donuts and apple juice are a few of his favorite things!
Read to Tiger
This book became a favorite as soon as we read it the first time! The funny voices I make for the Tiger always cause an uproar of giggles! It is a fun story about a little boy who wants to read his story and a Tiger who keeps interrupting him- until he sees the book is about a Tiger!
Goodnight Gorilla
What a sweet book! With both of my older children we make the sounds for each animal as we get to their page- it's wonderful for practicing those animal sounds for the little ones who are still learning!
The Story of Ferdinand
This book is such a classic. Poor little misunderstood Ferdinand sitting on that bee!  The photos are in black and white but they captivate both of my kids, so much detail to discover.
Old Bear and His Cub
Okay, the illustrations in this book are ADORABLE! This grumpy old bear reminds me of my grandfather before he's had his coffee and my sweet yet hyper kiddos are going a mile a minute- ha! It's relatable, adorable, and so sweet.
Little Owl's Night
Do you ever have a book that is SO loved that you have multiple copies? Well, that is this book in our house. We have at least three copies and it is read almost every night before bed! Greyson can't say "owl" yet, so he will "who who" at us to let us know he wants to read that book!
I'd Know You Anywhere My Love
You know the saying "Never judge a book by it's cover?" Well, that does NOT apply here! This book and it's illustrations are just as beautiful as the cover would lead you to believe. I bought this book for Ada in the Atlanta airport when I was a Flight Attendant and still remember tearing up as I read the pages in my uniform, missing my girl!
Love is my Favorite Thing
My Mother is to thank for my love of reading that was passed onto my children. She was always the one having quiet story time when I was younger and who pushed me to learn to read. She knows how much my kids love to read books and sends them often. This is one she sent this past Valentine's Day and Ada thinks its so silly. This naughty, rambunctious pup who after all of her mistakes is still loved, which is why Love is her favorite thing! It has a cute underlying message and I remember Ada saying "even when I'm not nice, you love me?" Yes, ma'am!
Where the Wild Things Are
This book is amazing! Another classic. I remember being read this book during circle time in my school library as an elementary student. Both of my children have always LOVED this book! It is definitely one full of the thoughts that run through a child's mind!
We LOVE curling up with some Kellogg's Frosted Flakes®, Kellogg's Froot Loops®, Kellogg's Frosted Bite-Size Mini-Wheats®, or Kellogg's Rice Krispies® and our favorite book, what's better than that?!
What are your favorite books?